Roger Bassin, MD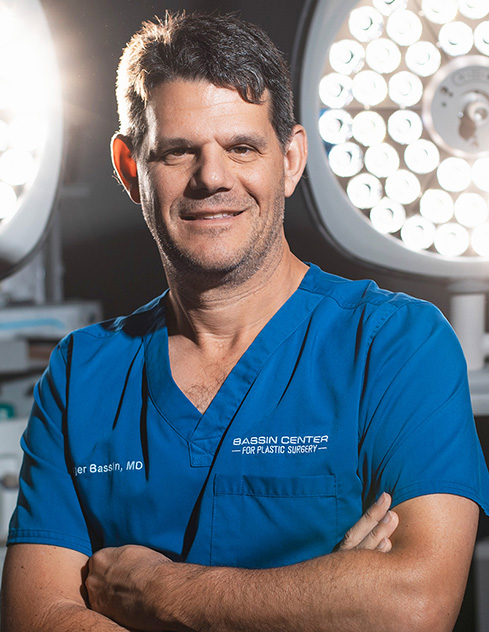 Dr. Roger Bassin is one of America's leading cosmetic surgeons. Dr. Bassin graduated Magna Cum Laude and Phi Betta Kappa from George Washington University, where he also received his medical degree. Dr. Bassin earned his residency in Ophthalmology from Mt. Sinai Medical Center and completed an internship at Lennox Hill Hospital in New York City.
Dr. Bassin has trained with some of the nation's top plastic surgeons. He traveled to the University of Illinois at Chicago where he received training in eyelid and facial plastic and reconstructive surgery under the preceptorship of Dr. Allen Putterman – a celebrated eyelid and facial plastic surgeon. During this time, Dr. Bassin also received liposuction training with some of Chicago's most renowned plastic surgeons. Dr. Bassin's facial plastic and reconstructive surgery fellowship training has been approved by the American Society of Ophthalmic Plastic and Reconstructive Surgery. Additionally, Dr. Bassin is board certified by the American Board of Ophthalmology and a member of both the American Society of Liposuction Surgery and the American Academy of Cosmetic Surgery.
Dr. Bassin is a leader in the field of plastic surgery, having helped pioneer numerous "invisible incision" procedures that can achieve substantial results with less scarring, stitches, and downtime. He has been featured in numerous print and television media outlets for his cosmetic surgery expertise. Dr. Bassin has also published his research in numerous cosmetic surgery journals and presented his findings to his peers at national medical conferences. Dr. Bassin is dedicated to achieving natural-looking results that provide an "unoperated" appearance.
Body By Bassin is proud to be named a national training center by Cynosure, manufacturer of the SmartLipo™. Doctors both nationally and internationally have been training with Dr. Bassin in Florida. Dr. Bassin is honored to be named one of the five national training centers and a nationally recognized leader in the SmartLipo™ laser technology. Dr. Bassin is also honored that his training course was picked as a "template" for the other national training centers. Dr. Bassin was the first in central Florida with all the newest and most powerful SmartLipo™ laser systems, and Dr. Bassin is proud to announce that he is once again the first physician in central Florida and one of the only doctors in Melbourne and Orlando with the SmartLipo™ MPX 32 watt laser system. This laser delivers twice the energy of any of the previous lasers, thus providing superior skin tightening and fat melting, resulting in even less downtime and better results.
In 2008, Dr. Bassin invented both Aqualipo® and NaturalFill®. On December 2nd, 2009 and again on May 6th, 2011 Dr. Bassin introduced these procedures to the nation with his live appearance on television. Since then, he has appeared on countless local and national TV shows to discuss those procedures. In November 2012, Dr. Bassin appeared on The Doctors to reveal the LazerLift. Dr. Bassin was voted 'Best of Brevard Plastic Surgeon' by the readers of the Florida Today and was named one of the 'Leading Physicians of the World' in 2013, 2014, 2015 and 2016 by The International Association of HealthCare Professionals. In October 2015, Dr. Bassin was presented with the Reader's Choice Award for 'Best Plastic Surgeon' by the readers of Hometown News. In 2015 and 2016, he also was named one of Florida's "10 best" plastic surgeons by the American Institute of Plastic Surgeons.
In January 2009, Body By Bassin was named a national training center by Eclipsemed, LTC, sole distributor of the Body-Jet®. Dr. Bassin is one of the first five doctors in the country to pioneer this exciting new technology. Dr. Bassin continues to train and mentor doctors in the use of this equipment.
How Do I Get Started With Cosmetic Surgery At Body By Bassin?
If you would like to schedule a private consultation to discuss cosmetic surgery at Body by Bassin in Florida, simply request a cosmetic surgery appointment online or contact one of our Florida locations: Orlando, Melbourne, the Villages®.