How Does Thermage® Work?
Thermage® tightens skin using focused radio frequency waves. Heat energy is delivered through the Thermage® device to the lower layers of your skin; this energy penetrates deep into the skin to target fat cells. Radio frequency energy also heats the area and remodels collagen in the deep dermis. The stimulation of new collagen production can enhance skin structure, maintain skin elasticity, and result in a firmer-looking appearance.
What Can I Expect During The Thermage® Procedure?
Thermage® is a non-surgical skin tightening treatment that does not require general or local anesthesia. A topical anesthetic may be applied before your Thermage® procedure to minimize discomfort. Thermage® technology also produces a cooling effect on the surface of your skin to ensure comfort and maintain skin health. During treatment, the Thermage® device is placed on your skin and begins delivering heat energy to the skin's deeper layers to spur on the production of new collagen fibers. After radio frequency energy is delivered, the skin is once again cooled before the end of your Thermage® treatment.
BEFORE & AFTERS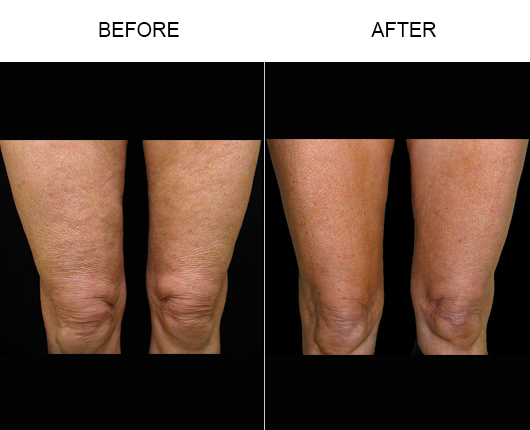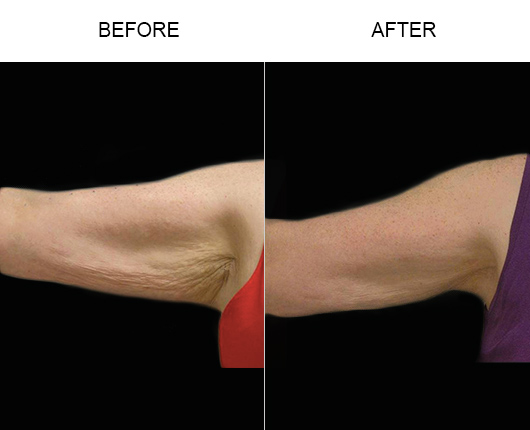 What Are The Benefits Of Thermage®?
Thermage® is completely non-invasive, meaning there is no general or local anesthesia required. Instead, a topical anesthetic may be utilized to reduce discomfort. Thermage® treatment can be completed in 90 minutes or less, depending on the target area(s). Patients experience virtually no healing time and can typically resume daily activities immediately.
Tightens loose skin and reduces the appearance of wrinkles
Remodels collagen and enhances skin structure
Non-surgical skin tightening procedure
Virtually no downtime
How Does Thermage® Differ From Other Body Sculpting Procedures?
There are various differences between Thermage® and traditional body contouring procedures. Thermage® is non-invasive, so there is no surgery involved during your Thermage® procedure. Unlike traditional body sculpting, which requires general or local anesthesia, Thermage® only uses a topical anesthetic. Additionally, there is no downtime or recovery associated with Thermage® treatment. Contact us today and find out how you can tighten skin and shape the body with Thermage® in Florida.
How Do I Get Started With Thermage®?
If you would like to schedule a private consultation to discuss Thermage® at Body by Bassin in Florida, simply request a Thermage® appointment online or contact one of our Florida locations: Orlando, Melbourne, the Villages®.